Academic Services Available to ISM Students
All newly admitted IMBA Executive track and doctoral students have a phone or face-to-face meeting with our Academic Director prior to the start of their ISM coursework. This session provides an overview of all program requirements, courses and delivery methods, academic services and how to take advantage of them, enrollment processes, and the processes ISM has put in place to assure quality thesis and dissertation research and advising. Furthermore, academic advising may be scheduled once the student has already started the program; the academic adviser may assess the student's performance thus far in the program, as well as his/her strengths and weaknesses, preferences, and challenges, etc. with a view to providing advice in terms of how to validate remaining requirements in ways best suited to the student.
Orientation for IMBA Full-time students
All IMBA Full-time students are required to attend a one-day orientation at ISM Paris. Orientations take place three times a year and are held one to two weeks prior to the start of the program. During orientation, the IMBA program resources, curriculum, academic policies, courses and expectations are reviewed to provide students with everything they need to know to get started in the IMBA Full-time program.
Academic Writing Modules
All IMBA Full-time students are required to complete Academic Writing Modules I and II. This non-credit module is also available to, but not required for, IMBA Executive and doctoral students. In both modules, students are given the opportunity to improve writings skills through practice and structured feedback.
Academic Writing Module 1: A half-day writing workshop, which includes a review and practice of critical writing skills. Students are required to write a short, well-structured, critical essay.
Academic Writing Module 2: During this half-day writing workshop, students are given an overview of criteria and expectations for writing academic research papers, using APA format as a guide. Examples are provided and discussed, typical problems are addressed, and tools provided with a view to building awareness about the rules of academic writing and how to comply with them.
Thesis and Dissertation Advising
All IMBA Full-time and Executive candidates must write a Masters thesis under the guidance of the Dean of the IMBA Programs and Director of Masters-level Research. The thesis process starts with a short thesis topic proposal, usually one page, which is reviewed by an assigned Thesis Advisor to determine the feasibility, focus, direction, and the potential contributions to the field of study of the proposed research.
All DBA and PhD candidates must write a doctoral dissertation under the supervision of the Director of Doctoral Research and an assigned Dissertation Adviser. Doctoral candidates write a 10-15 page dissertation proposal which is reviewed by ISM faculty members to determine the feasibility of the dissertation's focus, direction, and the potential contributions to the academic and practitioner community. Once a proposal is accepted, doctoral candidates are assigned to an adviser who is selected based on his/her academic background, experience, and credentials. The Dissertation Adviser mentors the doctoral candidate through the dissertation process until completion. Doctoral dissertations are submitted to a review committee before final approval.
ISM's Director of Academic Affairs: Matthew Andrews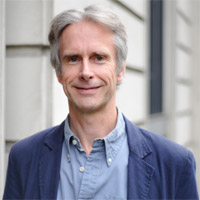 Matthew Andrews has been working in higher education in France since 1997 as a teacher, administrator, consultant, and accreditation peer reviewer. Before his current position as Academic Director at ISM, Matthew Andrews was the Dean of Bachelor and Master of Business Administration programs at the Institut Supérieur de Gestion in Paris, France. In addition to teaching academic writing at ISM, he has taught courses at the ISG, ISEG, the American Business School of Paris, and the University of Paris XII, Creteil. He has taught courses in Academic Writing, Methodology, Organizational Behavior, Intercultural Communications, and Sociology.
Email: This email address is being protected from spambots. You need JavaScript enabled to view it.