Ayalla A. Ruvio, PhD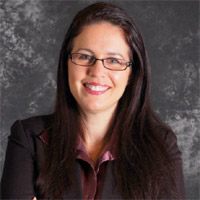 Dr. Ayalla A. Ruvio teaches Breaking Into New Markets in the doctoral programs at ISM. Ruvio is an Assistant Professor of Marketing in the Broad College of Business at Michigan State University and was a visiting scholar at the University of Michigan and an Assistant Professor at Temple University. Dr. Ruvio an applied consumer behavior researcher who specializes in issues such as consumers' decision making regarding new products, identity and consumption, and cross-cultural consumer behavior.
She has published more than 30 papers in refereed journals including the Journal of Academy of Marketing Science, Journal of Business Research, Journal of Consumer Behaviour, Journal of Organizational Behavior, and Leadership Quarterly. Dr. Ruvio's research has featured in numerous media outlets all over the world, including the CNN, TODAY show, Good Morning America, TIME magazine, The New York Times, Forbes, Consumer reports, The Daily Telegraph, The Atlantic, The Telegraph, and the Toronto STAR. As a teacher, Dr. Ruvio leverage a rich marketing consulting experience in the real estate industry, non-profit organizations and new ventures. She also have extensive experience in teaching and presenting her research all over the world. In 2011, she was named the American Marketing Association's Professor of the Year at Temple University by the students and also received the Marketing Department's Teaching award.
Ruvio received a B.A, M.A, and PhD in Social Entrepreneurship from the University of Haifa, Israel in 2002.
Publications
Hirschman, E.C., Ruvio, A. & Touzani, M. (2011)

"Breaking bread with Abraham's children: Christians, Jews and Muslims' holiday consumption in dominant, minority and diasporic communities". Journal of Academy of Marketing Science. 39(3), 429-448. (IF 3.269)

Ruvio, A. & Shoham, A. (2011)

"Aggressive driving: A consumption experience". Psychology and Marketing. 28(11), 1087–1112. (IF 1.385) Lead Article.

Ruvio, A., Gavish, Y. & Shoham, A. (2011)

"Consumer's doppelganger: A role model perspective on intentional consumer mimicry". Journal of Consumer Behavior.Segev, R., Shoham, A. & Ruvio, A. (2011)"What does this gift say about me, you, and us? The role of adolescents' gift-giving in managing their impressions among their peers". Psychology and Marketing. (IF 1.385)

Ruvio, A. & Shoham, A. (2011)

"A multilevel study of nascent social ventures". International Small Business Journal. 29(5), 562-579. (IF 0.927).

Ruvio, A., Rosenblatt, Z. & Hertz-Lazarowitz, R. (2010)

"Vision of difference: Differentiating educational and business entrepreneurial vision". Leadership Quarterly, 21(1), 144-158. (IF 2.902)

Gavish, Y., Shoham, A. & Ruvio, A. (2010)

"A qualitative study of mother-adolescent daughter-vicarious role model consumption interactions". Journal of Consumer Marketing, 27(1), 43-56.