One of ISM's MBA program ranked #151-200 out of 251 business schools around the world (and #51-60 out of 74 business schools in Europe) in the 2019 QS Global MBA Rankings.
The 2019 Global MBA Rankings includes 251 MBA programs from 37 countries and highlights the best MBA programs across the world. Schools are ranked on five key indicators: employability, entrepreneurship & alumni outcomes, return on investment, thought leadership and diversity. Among the 5 indicators evaluated by QS, ISM scored higher than the global mean in diversity and employability.
Ivy Exec
ISM's International MBA Executive (IMBA) Program is ranked #28 in Europe and #103 globally by Ivy Exec.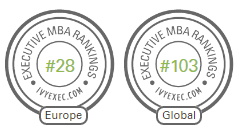 Additionally, ISM's IMBA program is ranked #6 in Europe for LIFE BALANCE, #8 for GLOBAL EXPERIENCEand #9 for CAREER ADVANCEMENT.

Click here to see the full Ivy Exec ranking of ISM's Executive IMBA program.
Top Management Degrees
ISM's DBA was ranked in the top 50 top doctorates in business management by Top Management Degrees in 2016.

Top Management Degrees is an online guide for prospective applicants seeking degreeprograms in management or business. In addition to rankings and reviews of the best international management and business degree programs, Top Management also provides insights.
Click here to see the ISM DBA on the Top Management Degrees website.
Expatriates Magazine - Best in Paris
ISM was awarded the Best Business School in Paris 2016 award by Expatriates Magazine.