Student Stories - IMBA
Emmanuel Igah | IMBA Alumnus from Nigeria/France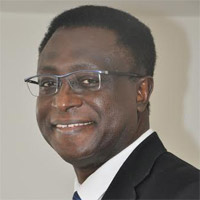 ISM's International MBA program is an excellent career booster.
After my initial professional experience in academia and research, I wanted to re-orient my career towards entrepreneurship and the business world. I made contact with several institutions offering international MBA programs in Europe and North America. My discussions with ISM convinced me that I was knocking on the right door. I saw that ISM offers a truly International Executive MBA program in a highly multicultural context and with a flexible course schedule which I could easily organise to suit my professional engagements. This was exactly what I needed. The course modules taken in Paris were delivered by high caliber faculty with solid corporate experience, who could support theory with practical examples and instructive case studies. This gave me a strong foundation in the understanding of business management. The second part of the program held at St. John's University in New York buttressed this experience and widened my outlook on international business. The crux of the New York program, to me, were the numerous site visits to major corporate institutions and organizations, including Bloomberg, Oracle, the New York Stock Exchange, Shiseido, and the United Nations.
My profile undoubtedly metamorphosed after the IEMBA program at ISM, attracting offers for executive positions in major firms and projects. Upon completion of my studies, I immediately became a project manager in a major Paris-based media group, developing their business in Africa (Nigeria, Angola, Uganda, Democratic Republic of Congo, Gabon, Morocco, Saudi Arabia, etc.). I handled project monitoring and evaluation for the French government and later served as a Senior Consultant to the United Nations (Sudan) and the European Union (Nigeria). I set up and became the first managing director of the Nigerian subsidiary of one of Europe's biggest risk management and security firms. Thereafter, I was employed for several years by a major Texas-based oil and gas facilities design and construction firm, serving as a senior manager in a world-class multi-billion-dollar gas-to-liquids project located in Nigeria's oil- and gas-rich Niger Delta region. My office coordinated the employment of this project's over 15,000 workforce and facilitated community empowerment through contracts, procurement, and human capacity building opportunities, as well as corporate social responsibility projects.

I am currently a Senior Associate at Phobos International, a consultancy specialized in business development, business intelligence, and risk management. In this firm, I also serve as the Scientific Director of the "Country Handbook" series which Phobos International publishes in partnership with governments to promote investment, tourism, and academic knowledge of their countries. One of these publications, Nigeria Handbook: All You Want to Know about Nigeria (French and English editions, 2009, 2014, 2016), has gained international recognition. In addition to this title, I have achieved the production of several other books including the Atlas of Nigeria (English/French editions, 2002/2003), Atlas du Gabon (2003), Atlas of Morocco (French and Arabic editions, 2004), The Force of Diversity: Peoples and Cultures, Escravos Gas-To-Liquids Project" (2013), and an article, "Le Nigeria: Géopolitique et Population du 'Géant' Africain" (in Population & Avenir, N°682, 2007).