Student Stories - IMBA
Jessica Marie Kruger | IMBA Alumnus from Australia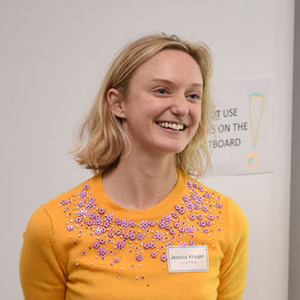 What drew you to ISM?
I was looking for a business school in Paris in which to complete a master's degree. I remember going around the city visiting the various schools. I felt really at home and welcomed by ISM — the international vibe appealed to me a lot. I wanted a school that was really cosmopolitan and ISM ticked the right boxes. I had been in Paris for about a year prior to starting at ISM. Before that, I had completed my undergraduate degree (in International Studies) at Macquarie University in Sydney, Australia, where I grew up.
Describe your experience at ISM. Which classes influenced how you see business – or the world – the most?
The financial statements and logistics modules were particularly memorable in how much I struggled with them! All jokes aside, I really had a great time at school. The classmates I had were brilliant — some of whom, 10 years on, are amongst my closest friends today. The faculty staff were fantastic; they were on it and they got it.
It was probably the Sales course that I took in New York that has left the biggest impression on me. Having only had lowly student jobs before, I'd never thought sales was relevant to me. Today it's what drives my every waking moment. It's so critical to my fledgling business.
Which ISM locations have you studied in and what did you enjoy most about studying in those locations?
Paris and New York. It was a very hot summer in NYC that year! I remember us all melting into the footpath when we went for lunch.
Studying in Paris? Well - it's the dream, right? I had been studying French since the age of 10 and living a year in Paris was one of my life goals, even then. So to be a student and meeting great people and going for apero after class… That's my idea of bliss.
New York was great too as we spent so much more time together as a class. I still remember our Ethics and Sales lectures — the professors left such an impression on me. Tasting a new lifestyle in New York was also fabulous. The opportunities to study around the world was another reason why ISM appealed so much.
In your opinion, what makes ISM unique?
ISM takes care of you. It's a human school. In the big universities that I had attended as an undergrad in Australia (University of Sydney, Macquarie University) I was a number amongst tens of thousands of students - and I really struggled with that. I didn't enjoy it my time studying in Australia.
At ISM, by contrast, I felt I could reach out to anyone in the school to get the help I needed. Our main contact person was often sitting right outside the lecture rooms. That was to me at a time when everything familiar was quite literally half a world away. It made all the difference.
How has your career evolved since graduation?
I started and sold my first business! I didn't think that would happen!
In a nutshell, I graduated from ISM, moved to Switzerland and worked in corporate intelligence (lots of stories for another day!) and down the track became a vegetarian. It's quite cool these days, but at the time the "v" word was a dirty one. I moved to London to start a restaurant called ETHOS. I was 26 and had never managed anyone before, let alone a team of 25. The restaurant won an award, was given 5* by Time Out magazine and generally is seen as one of the healthy eating restaurants in the city. I was named of the UK's top young businesswomen as a result.
I sold the company in 2016 and have been building my sustainable fashion brand, LUXTRA, ever since. It's getting there! Yesterday we were named runner up the Sustainable Lifestyle Awards. I just need to keep on at it.
What's next for you professionally and personally?
I want to make a success of LUXTRA. I'm finding it tough right now carving out a niche and growing sales. I'm getting a lot of help from a former classmate of mine — Ilse Vonk, who is also an alumna and now completing her DBA with ISM. It's a great network!
I'm fundraising for LUXTRA and in 2020 want to grow the team around me. Then the sky's the limit. Watch this space!