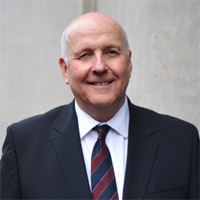 ISM is pleased to announce the winner of the Teaching Excellence Award for the 2017-2018 academic year: Professor Tobias de Coning. The winner was selected based on student evaluation scores, informal feedback, and dedication to the ISM community.
Dr. Tobias "Tobie" de Coning is a member of ISM's core faculty who began teaching at ISM in 2015. His subjects include Leadership in Higher Education Institutions in the doctoral program and various entrepreneurship courses, including Corporate Entrepreneurship, Managing SMEs, and Entrepreneurship & Innovation for all our degree programs.
Professor de Coning is an experienced adviser and study leader at both the master's and doctoral levels. He has wide-ranging international experience and currently also works extensively with the Association of African Universities (AAU) to advance the functionality of member universities.
On what motivates him as an instructor, Dr. de Coning said, "For me, it comes down to being humble and accessible and facilitating a learning environment where all students can take ownership of the learning experience. In this learning environment, experiential learning is key, especially given the outstanding quality of ISM's students."
We are pleased to present Professor de Coning with this award and thank him for his continued support of ISM and our students.