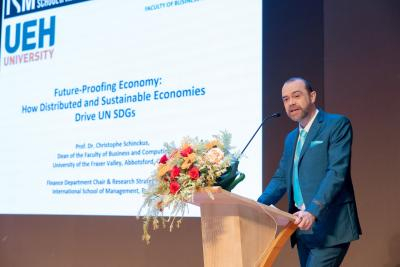 Finance Department Chair Christophe Schinckus was the keynote speaker at the International Conference for Young Researchers in Economics and Business (ICYREB), held on October 27, 2023, at the University of Economics Ho Chi Minh City (UEH).
Prof. Schinckus delivered a compelling presentation titled 'Future-Proofing Economy: How Distributed and Sustainable Economies Drive UN SDGs,' exploring the interplay between distributed economic systems, blockchain technology, and the United Nations Sustainable Development Goals.
The ICYREB conference attracts young scientists, educators, and industry leaders to discuss economic and business innovations.
Access an article about the conference (in Vietnamese)
here
.