For Immediate Release
Paris, France — The International School of Management (ISM) has partnered with GC4W University to grant academic credits to participants in GC4W University programs designed to train, coach, and transform women entrepreneurs and business leaders.
Research suggests that the challenges that impede female entrepreneurs from thriving in their businesses include insufficient education and training, lack of access to finance and capital, gender bias and discrimination, poor leadership management skills, limited access to mentors, and inadequate resources. This new academic partnership aims to bridge that gap by outfitting female entrepreneurs with the tools and skills they need.
"In an effort to close the gap on access to quality education for female entrepreneurs and to produce sustainable business endeavors, we have created the GC4W Entrepreneurship Certificate Program. GC4W University Programs will develop female entrepreneurs and their leadership skills so that they may continue to thrive while growing their business. We are excited to partner with ISM to realize our global commitment to creating quality educational programs and to offer great value to the female entrepreneurs in our GC4W University community," said Lilian Ajayi Ore, Founder & CEO, Global Connections for Women Foundation.
The Global Connections for Women Foundation (GC4W) launched the GC4W Entrepreneurship Certificate Program to develop and train the next generation of entrepreneurs on ways to scale their business ventures and improve their leadership skills. 16 Female entrepreneurs were accepted to the first immersive program designed to guide female entrepreneurs in the early stages of their business idea — from concept to series funding rounds.
Now, in addition to earning a certificate of completion with GC4W, participants will also acquire academic credits that they can transfer to degree-granting institutions anywhere in the world. This new partnership will also mean program participants will gain unparalleled access to ISM's faculty, certificate programs, educational tools and resources, and other degree programs — opening up even more opportunities for these dedicated entrepreneurs.
"I am very excited about this new partnership with GC4W. The tremendous work that has been done by Lilian Ore, and her award-winning organization, is entirely in line with the International School of Management's values and strategic priorities, especially our strong and long-term commitment to Diversity and Inclusion," said Maurice Forget, Executive Director, The International School of Management.


About The International School of Management (ISM)
The International School of Management (ISM) is a specialized, accredited business school based in Paris, France, with programs on five different continents.
ISM gives students the global perspective they need to thrive as modern business leaders. We do this by keeping our classes small, select and culturally diverse, and by offering programs in major commercial hubs around the world.
The school offers three accredited business programs. The International MBA develops the global business leaders of tomorrow, while the DBA is made for experienced executives seeking to tackle the challenges of senior leadership on an international level. For proven senior practitioners, the PhD hones the teaching and research skills needed to give back to the business community and shape the next generation of leaders.
About GC4W University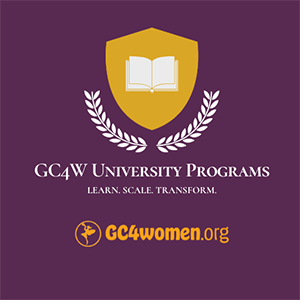 The Global Connections for Women Foundation (GC4W) created the GC4W University Programs to increase access to quality education for women and girls worldwide. The aim of the GC4W University Programs is to first create a series of educational programs for the growing community of female entrepreneurs and support them in building scalable and sustainable business practices.
The goal of the GC4W Entrepreneurship Program has always been to increase value and opportunities for the entrepreneurs in the program and continue to expand the academic value of the GC4W University programs.
GC4W Faculty are successful practicing entrepreneurs, business leaders, venture capitalist, and esteemed educators, who have decided to give their time to bridge the gap on what it takes to run a scalable business with standards of practice and leadership.