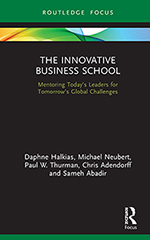 Professors Daphne Halkias and Michael Neubert have co-authored a new book on innovation in management education. In The Innovative Business School: Mentoring Today's Leaders for Tomorrow's Global Challenges, the authors formulate a blueprint for the innovative business school of the next decade, with proposed areas of innovation which will train executives to transform the coming technological disruptions into an avenue for world economic development and prosperity.
Offering a new model of business education, the book maps the way forward for business school innovators in exploring questions related to innovation and strategy needed on the part of academic and industry leaders and educators across demographic divides.
The book is available for purchase now. Learn more
here
.