Student Stories - IMBA
Chris Mactaggart | IMBA Alumnus from the USA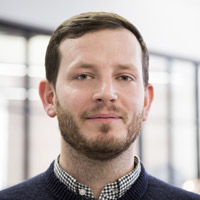 Going through ISM and the contacts that I made gave me the opportunity to get my dream job with my dream company in London. This definitely would not have happened if I had not finished my MBA at ISM.
My experience at ISM was incredible. I'd just finished my first year in Paris and was trying to decide whether to stay and enjoy the city of lights or to be responsible and go for my MBA. After a quick search through VA-approved overseas schools, I found that I could do both! I met most of the ISM team during the application process (the benefits of a small school) and knew it would be a perfect fit with my work and social schedule. The classes were great, the classmates were top-notch, and I still keep in touch with many of them, and try to make the ISM social events when I'm in the right city at the right time.

While at ISM I made the decision to stay on in Europe, but as an American in Europe I needed to justify my right to work! I started the job search during my last year at ISM, and managed to convince the chain of bars I was employed by to promote me from bartender to e-marketing coordinator. I did this during my last nine months in Paris, at which time I also started applying for jobs in the UK. It had always been my aim to work in consulting, so my first applications were with the big four professional services firms. Since I had limited professional experience prior to my e-marketing position, I applied for graduate schemes for each in London.

I was pessimistic at best. Here I was, applying from Paris to top employers in London without a legal right to work in the UK and limited professional experience. I was pleasantly surprised when I heard back from Deloitte UK that I'd passed their preliminary exams and was invited to come for a series of interviews in London. After two expense-paid trips to London, I was offered a position in Deloitte Digital as a UX consulting analyst. Two years later, I am coming up on my first promotion and am continuing to enjoy my time at one of the UK's top companies, doing work I love to do with interesting big-name clients.