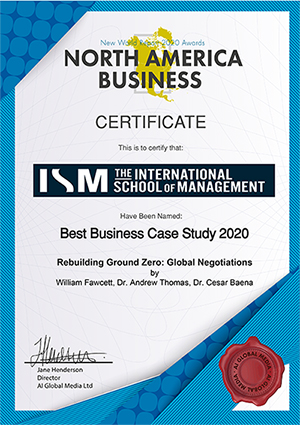 The ISM-produced case study "Rebuilding Ground Zero: Global Negotiations" co-written by ISM DBA candidate Will Fawcett, Professor Andrew Thomas, and Dean César Baena was awarded Best Business Case Study 2020 in the North America Business Awards.
After the attacks on September 11, 2001, the magnitude of the material damages proved challenging for the insurance companies managing and settling the claims. The case study provides an extensive view of how stakeholders from around the world addressed these negotiations and proposed solutions to settle various disputes.
This case is the first in a series produced by ISM drawing on the global experiences and diverse knowledge of ISM students, faculty, and senior staff. Available at the Case Centre (ref. no. 320-0324-1), it is a valuable learning tool and demonstrative of the excellence and expertise of ISM's core faculty and students.
Hosted by New World Report, the North America Business Awards' extensive research and judging process is driven by merit and centered around an in-depth evaluation of skills and services on offer. New World Report's Awardees must demonstrate expertise within their field, dedication to customer service, and a commitment to promoting excellence.
New World Report is an insightful and informative business news platform providing readers throughout the Americas with business advice to aid business progress, success stories aimed to inspire, and trends and innovations to support business growth and continuity. Born out of the merge of U.S. Business News and Latin America News, New World Report has a dedicated website that is updated daily with content, and a monthly newsletter circulated to more than 100,000 businesses and professionals from across the region.
Read more about the awards and an article on the winning case study here.