Student Stories - DBA
Troy C. Troublefield | DBA Alumnus from the United States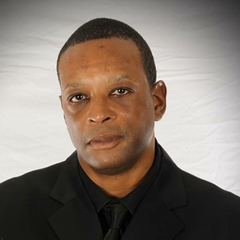 The best part of being at ISM is the ability to converse and collaborate with people from all over the world. Though the education is world class, ISM's best attribute is its ability to bring together people from all walks of life to learn from and grow with one another in an enriching and creative learning environment. ISM has given me an experience that I will carry with me for a lifetime.
Much of my professional life has been in the US military, which has allowed me to travel all over the world and see different cultures and the values of different types of people. This cultural perspective spawned my interest in international business. I wanted to continue to use the skills that the military gave me through international travel and immersion with other people and cultures.
After I completed a Master of International Business Administration from Nova Southeastern University and a Masters of Business Administration from New York Institute of Technology, I wanted a doctorate that would give me a truly global education. After looking for programs at other universities, I was not finding what I was looking for when looking for a career in global business.
During further research, I found ISM and thought it was a great fit because it had all the elements that I was looking for in a school. By offering classes in different countries around the globe, I felt that I would not only get a premium education but also learn business perspectives from the teachers in these countries as well.
THE ISM EXPERIENCE
During my time at ISM, I had the opportunity to meet people from all over the world, and make international connections that I would not have made at a traditional American university. During the courses in New York City in 2014, I had the ability to meet fellow students from several different countries, who offered insights on business and culture that I had never considered. The friends and connections that I obtained during the course cannot be overstated, because I have friends and connections from the course who I can call on for advice about relevant business issues today.
The collaborative learning environment of ISM and its professors allowed me to learn from not only the professors but the students as well. In the classroom, there was a wealth of knowledge and experience in global business and culture that cannot be obtained anywhere else.
Because of my work schedule, many of the classes for my DBA were completed online. All of my professors were from different countries around the world and provided me with the content needed to tackle complex international business problems. The case studies presented by my professors were relevant to current international business issues/topics and provided me with the tools to succeed.
I published an article with my dissertation chair Dr. Nicholas Harliolakis called "Cross-cultural Issues of US Service Members Assigned to South Korea," in the "International Journal of Teaching and Case Studies, Vol. 9 No. 3, 2018." The research study was focused on the cultural issues service members face when assigned to the South Korean peninsula. The gaps in cross-cultural training create conditions of cultural shock, cultural insensitivity, and other issues when service members are not trained to increase their cross-cultural competence before their assignment to South Korea or other countries. The article is relevant to training for US service members and expatriate of multinational corporations (MNCs).
THE ISM IMPACT
Obtaining my DBA from ISM has enriched my professional career immensely by allowing people and potential employers to see the value of my education. At the Joint Special Operations University, professors and other doctors saw me as an equal, who can converse on complex issues at a higher level, and it created opportunities for employment at the university after my retirement from the US Army.
My DBA also helped me to obtain the title of "Master Instructor" during my tenure, by demonstrating the teaching and educational requirements needed to be a part of the organization. As many enlisted soldiers do not go on to get a terminal degree such as a PhD, DBA, or the like.
Obtaining a DBA creates the opportunity for higher positions of responsibility within the US Army by giving me the opportunity to teach, coach, and mentor the future military leaders of tomorrow. Furthermore, obtaining my DBA has enriched my life in more ways than I thought possible. It has given me the latitude to create my destiny after military service and eased my transition into civilian life.
WHAT'S NEXT?
Currently, I am a Human Domain Analyst that studies the human domain (culture) within the strategic multinational corporation and US military constructs. After finishing my DBA with ISM, I feel very accomplished and secure in the fact that I can take what I have been taught and apply it in the real world. I loved my time at ISM so much that I am planning on returning to begin the PhD program this fall and specializing in Strategic Technology Management. I will utilize all of the available global courses I can to help enrich my learning.