A Fresh Start to my MBA Journey: Developing Leadership Skills in the French Countryside
Written by Paola Roldan - IMBA Student - United States
How often have you started a graduate school course by being asked to describe the current quality of your mind?
This was the question I was asked, along with twelve other students, at the beginning of a three-day leadership retreat hosted by the International School of Management.
About a two-hour drive from Paris, we entered Champignelles in the northern Burgundy (a.k.a. Bourgogne) region of France – a stark contrast from the bustling beauty that is Paris. The bus zipped past 19th-century homes and fields of green and eventually brought us to Campus MaNa.
Nurturing practical leadership skills in the tranquil French countryside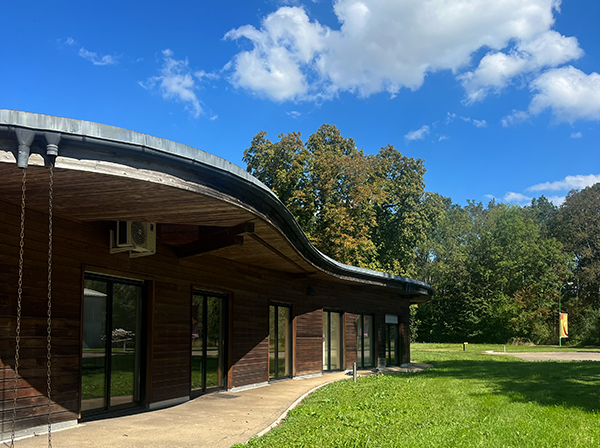 Sitting on 37 acres of land, this newly renovated professional training centre for creators hosts dozens of professional workshops and retreats per year. This particular week, however, it was a place for my ISM colleagues and me to dig deep and explore the connection between our minds and our leadership skills.
Over three days, the retreat was split into short lectures complemented by mindfulness check-ins and activities. Lessons from professors and guest lecturers about the brain, sleep, meditation, and neuroplasticity were paralleled with self-check-ins, short meditation breaks, and walks outside to balance sitting during class.
"Unlike past courses/sessions, this one had us together as a cohort for the entire three days, sharing not only meals and sessions but also break times," says ISM PhD student Kimberly Cutchall. "This constant togetherness allowed us to delve deeply into learning about one another, fostering meaningful connections and bonds that went beyond the typical retreat experience."
Immersive learning unlocks new personal insights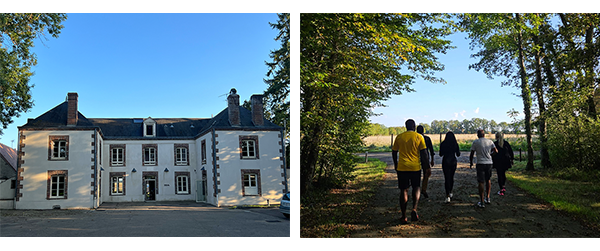 "The retreat was more practical than theoretical, and this gave a deeper understanding of the various topics and sub-topics taught" says ISM PhD student, Timilehin Akinola.
Rather than just learning about how to manage stress in leadership positions, we were actively using these techniques in real time with a backdrop of the French countryside's clean, crisp air.
One particularly powerful activity involved creating a visual timeline of our lives, noting key turning points, and what we learned from them. For some students, it was a powerful exercise that ignited reflection and gratitude.
"Doing this exercise made me realize the things I achieved and overlooked and was never thankful for," Akinola reflects. "Today, if I see a roadblock in my journey to success, I will take a break to be thankful for what I have achieved first and not beat myself up for having a roadblock."
Integrating mindfulness: essential for the modern business leader?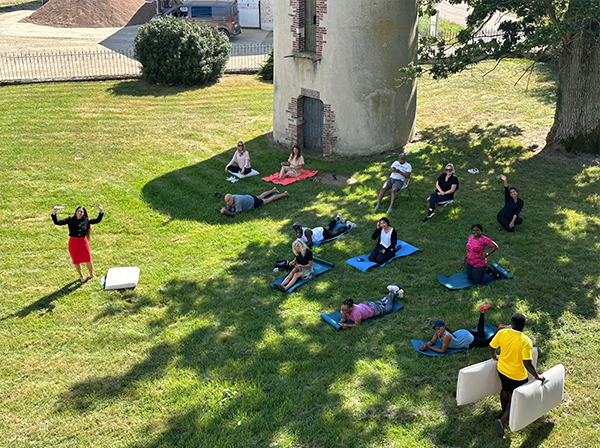 Traditional business courses like Strategic Management and Global Economics are crucial; however, we can still and should make space in modern MBA, DBA, and PhD programs for mindfulness and wellbeing training to help support our managers and leaders. In fact, they work in conjunction with these traditional courses to shape our professional and personal lives.
"[During this retreat], I acquired practical tools and techniques that are not only valuable for my business clients but have also enhanced my personal life," says Cutchall. "These newfound skills empower me to manage stress, improve focus, and foster a sense of well-being, ultimately making me a more resilient and empathetic individual both in my professional and personal spheres."
Key Takeaways of ISM's Leadership Development Retreat:
Science shows us that the quality of a person's mind directly affects their ability to lead well.

To successfully take care of a team or business, a leader must take care of their own well-being.

Every leader's mindfulness techniques are unique.
The International School of Management's programs are on a rolling admission. Apply to start your post-grad journey with ISM!