The Big Apple
Written by James Cody Fox - IMBA Student - USA
As you may know, I am American. You may also be aware that ISM has facilities in New York City. This summer, many of us MBA and IEMBA students are preparing to meet in New York from Paris and other places around the globe to participate in the intensive seminars for two weeks at Baruch College. This blog entry is intended for all of my fellow peers to have a sort of "crash course" on New York before they arrive for our two week adventure.
Although New York City is enormous, navigating Manhattan is quite simple. The city is laid out like one big grid. There are roughly 11 avenues that run north (uptown) to south (downtown). They are usually numbered, as are the streets that run east to west (crosstown). Like anything, there are always plenty of exceptions. Besides large cross-streets that are two-way streets, cross-streets are typically one-way streets where the even-numbered streets run towards the east and odd-numbered streets run towards the west. Once the cross-streets reach Houston Street, all logic is lost. The grid system becomes broken, and the names of the streets are random. But that's ok, because New York is still much easier to navigate than most other big cities.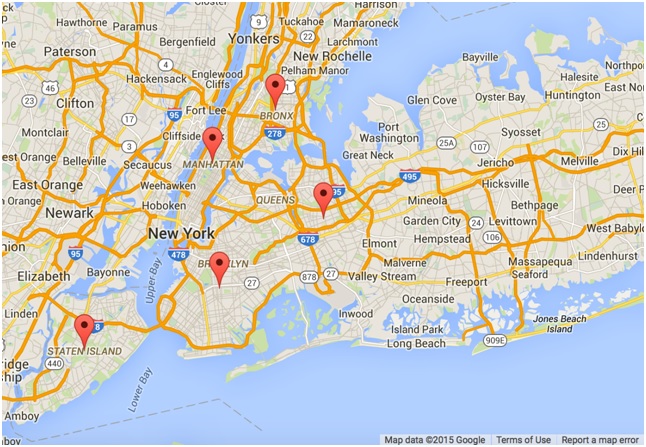 Now Manhattan is just one of five burros that make up New York City. There is also Brooklyn, Queens, Staten Island, and the Bronx. Although Manhattan appears smallest on the map, it is the most densely populated part of New York City. Please refer to this figure provided by Google Maps to discover the geography of the US's largest metropolis.
Apart from studying maps, spending two weeks in New York requires some important lingo, jargon, and nicknames if you want to fit in and feel comfortable getting around the city. Below is a list of terms I have put together that you will want to make yourself familiar with before asking for directions or speaking with a local.

Alphabet City: This is a neighborhood from East 3rd Street to East 14th Street between Avenues A thru D.
Downtown: Anything south of Canal Street is considered to be "downtown."
Midtown: This denotes the middle of the borough and island of Manhattan.
Uptown: This nickname represents Upper Manhattan, the more northerly region of the burrow.
Houston Street: This street runs east and west. It is not pronounced like the city in Texas, but like "HOW-stən".
Hell's Kitchen: This neighborhood runs from 40th to 59th Streets between the Hudson River and Eighth Avenue.
The Meat Packing District: This was once the district where the meat was butchered and packaged. The neighborhood is now trendy, particularly known for its nightlife. Its borders are Gansevoort Street and 15 Street, between 9th and 11th Avenues.
Nolita: This is another small, trendy neighborhood that is situated just north of Little Italy. Its border are Broom Street (Little Italy), Houston Street, Bowery Street, and Lafayette Street.
SoHo: This stands for "South of Houston Street." This district is know for its shopping.
TriBeCa: This neighborhood is an acronym that stands for "Triangle Below Canal."
The Lower East Side: This is sometimes abbreviated as LES. It is a neighborhood in the southeastern part of Manhattan. Its boundaries are roughly located between the Bowery and the East River, Canal Street and Houston Street.
The Upper East Side: This neighborhood between Central Park/Fifth Avenue, 59th Street, the East River, and 96th Street. It is known for being bougie and upscale.
The Village: This is a nickname for Greenwich Village (pronounced gren-ich). This neighborhood borders Houston Street, 14th Street, Broadway, and the Hudson River.

Are you feeling more prepared? Study up and get ready, because with two weeks in the Big Apple, you'll have plenty of time to explore this amazing city. I hope you are as excited as I am to spend time in one of the most vibrant cities in my country, the United States!